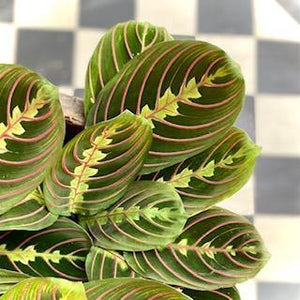 Maranta 'Fascinator'
Pot 12cm approx
Height 30cm approx
These pretty tropical houseplants are super popular with our plant loving customers at Wild & Rust. They are often mistaken for a Calathea or 'Prayer Plant' and although they will behave in the same way, including opening and closing their leaves, they are of the same family but a different genera. Their striking hues and patterns make these plants particularly joyful and a perfect plant to cheer up a friend.
Marantas thrive in dappled light in a warm room, away from draughts. Keep the soil moist, but never let them sit in water and mist once a week. If you are lucky they will thank you once a year with tiny dainty pale pink flowers.
Easy care
Pet friendly
Can be sensitive to tap water so try filtered water when possible.
Available for local delivery within a 10 mile radius on Henley-on-Thames (RG9 1UP) at this time. We are working on a suitable and sustainable packaging option so we can soon send our beautiful plant range further afield across the UK.