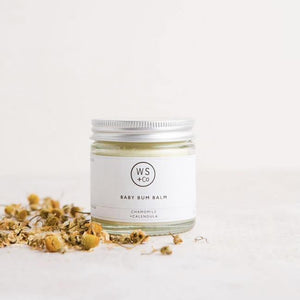 60 ml
A natural barrier for Baby's delicate skin. Packed full of Chamomile and Calendulainfusion, this healing and anti-inflammatory balm is hypoallergenic helping to prevent and soothe the symptoms of nappy rash. 
Skin Type: Suitable for all skin types including those with sensitive skin.
Blend: Fragrance free, contains no essential oils.
Beneficial Plant Oils: 
Shea Butter for it's deep moisturisation properties, it also helps to promote the growth of healthy skin cells. 
Calendula This balm contains an infusion of this healing herb and Olive Oil that works to soothe all kinds of skin ailments.
Chamomile A well known anti-inflammatory helping to repair the skin and calm the senses.
Bees Wax Forms a natural barrier to protect the skin and contains Vitamin A which is said to promote cell regeneration and skin health.
Zinc Oxide is used to treat skin rashes and to form a barrier fro the sun. Used in most nappy creams, Zinc Oxide is the key ingredient to treat and prevent nappy rash. 
Directions: Apply gently on Baby's dry clean skin.
Tip: Keep in a col place and out of direct sunlight as it will cause the butters and oils to melt.
Natural Ingredients, Hand Blended, UK Made