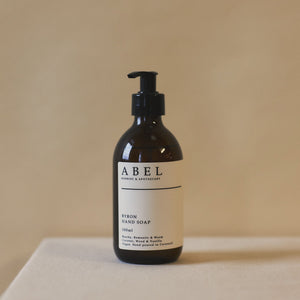 Byron Hand Soap - Coconut & Sun Cream 300ml
Byron is the scent that reminds us best of sunny beach days - coconutty + suncreamy, with a natural woody warmth. Created to remind us of long beach days in Byron Bay, Australia. Skin softening and gently foaming, with a calming coconut fragrance at the sink, and a long-lasting but subtle effect on your hands after drying, this soap will become one of life's necessary indulgences. 
Vegan and Cruelty Free. 300ml.
Byron Hand Balm in 120ml also available.
Made with Organic Soap Base and Byron Fragrance  at 1  %  Contains Coumarin Anisaldehyde, Oxacyclohexadec EN-2-ONE, Gamma Undeclactone,Diethyl Phthalate.
 Always Handmade, Recyclable glass packaging