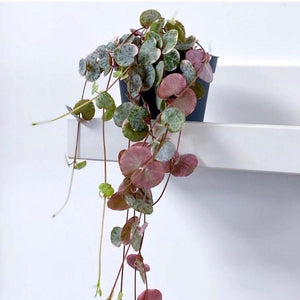 Ceropegia Woodii 'String of Hearts'
Pot size 11cm approx
Height 14cm approx
This hardy semi succulent houseplant has very pretty heart shaped leaves, hence the name! This is a vine type plant which grows long, wispy trails making them an attractive option for displaying on shelves and windowsills around your home. They are a low maintenance houseplant, perfect for new plant parents.
If happy within it's environment, this dainty little plant can grow trailing vines up to 2 metres long. Display at room temperature with moderate, but not direct sunlight. Keep the soil lightly moist throughout the warmer months, it can be treated like a succulent so do allow to dry out between watering. During the winter months the plant is dormant so water much less frequently.
Easy care

Fast growing

Non toxic
Available for local delivery within a 10 mile radius on Henley-on-Thames (RG9 1UP) at this time. We are working on a suitable and sustainable packaging option so we can soon send our beautiful plant range further afield across the UK.