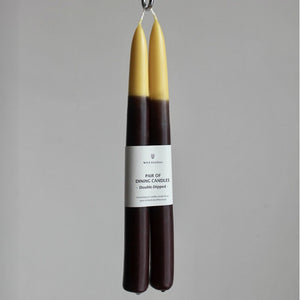 A pair of hand dippd and naturally dyed dining candles made with natural yellow beeswax and black dyed beeswax. These candles release a subtle aroma of honey. Perfect for creating a sublime ambience or give as a sustainabe gift this Christmas.
Size 2cm x 22cm
Materials - black beeswax dye, 100% pure beeswax, organic cotton wick
Burning time - 6/8 hours 
Founded in 2017 Wax Atelier re-visits traditional techniques ranging from candle dipping, paper making, to crafted textiles using natural wax. Making becomes a tool to experience the interconnection between the natural world and material culture. Since 2020, our products are manufactured in Barking, East London, by a team of trained artisans, originating from the local community.
Handmade, UK made