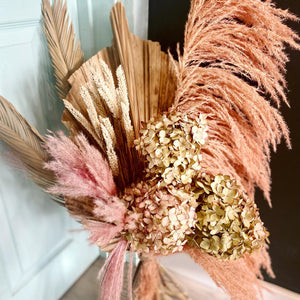 Dried flowers are back in vogue and this time around they are stylish, bold and sustainable! These water saving blooms are zero waste and almost everlasting, what is not to love? 
Our dried bouquets are pre made by our in house florists so you can simply pop them straight in to your favourite vase at home or gift them to loved ones. 
Your dried flowers will be wrapped and packaged in recyclable and biodegradable packaging.
Stem length 60cm approx
Please display away from direct sunshine which can fade the colour of your dried flowers. Not suitable for bathrooms or kitchens where they may absorb moisture from the atmosphere. A soft warm hairdryer will help to keep the dust away and revive fluffy blooms!
Now available for UK delivery and Click & Collect.