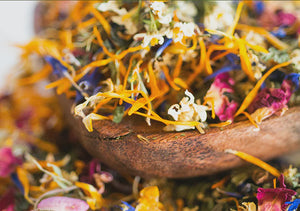 COMFORTING & REASSURING
Feel the Love Tea
May help to relax and unwind. A Floral & herbal blend of aromatic petals and leaves. Delicate, aromatic, soothing and naturally caffeine free. Our beautiful floral tea is not only comforting it tastes gorgeous and looks amazing too!
Ingredients: Calendula, Lemon Balm, Rose Petals, Elderflower, Hibiscus Flower, Chamomile, Lavender, Passionflower, Rose Buds, Jasmine, Rosehips , Cornflower.
Always best to check with your health professional.
Available in the following sizes
Jar-Reusable airtight Jar (20-30 cups)
CAFFEINE FREE - VEGAN - NATURALLY GROWN - HAND PICKED & BLENDED IN DEVON
Naturally Grown, Handmade in UK