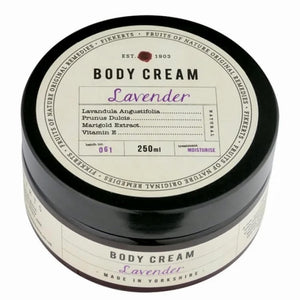 Fikkerts is a family run Yorkshire based company who have been capturing the fragrance of the English countryside for over 100 years. They use their wisdom of traditional herbalists and the knowledge of modern aromatherapy to create natural products that have genuine skin care benefits. Our Fruits of Nature range is lovingly made from natural and sustainably sourced ingredients and are Vegan friendly.
This rich and luxurious body cream is naturally fragranced with delicate English flowers. It is perfectly formulated to soften and moisturise your skin all day. 
Use a small amount and massage gently into the skin. 
250ml   
Natural Ingredients, UK Made, Recyclable Packaging