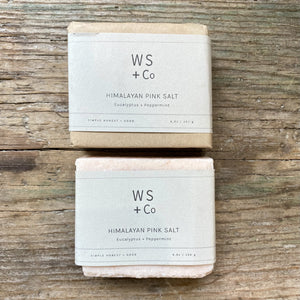 100g
A subtle and grounding soap bar for everyday use.
Skin Type: Suitable for all skin types.
Blend: Peppermint & Eucalyptus to heal the skin and revitalise the senses.
Natural Properties:
Caster Oil works wonders for blemished or acne prone skin. 
Organic Shea Butter is well known as a deeply moisturising butter. High in Vitamin A, it is known to improve the skins elasticity and reduce the appearance of marks and scars.
Himalayan Pink Salt helps to replenish 84 minerals that give your skin it's healthy glow. It also soothes tired muscles and can be used as an effective exfoliant.
Coconut Oil reduces inflammation and locks in moisture.
Soap Care: When you are not using your soap bar it's best to keep them out of water on a well drained surface, allowing it to dry inbeween uses. A wooden dish with open slats is perfect. This will keep your soap bar feeling naturally fresh and fragrant for as long as possible.
Natural Ingredients, Handmade, UK Made, Vegan Friendly