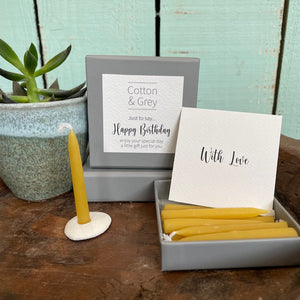 Mini Beeswax Candle Gift Box - Just to Say...Happy Birthday
Take a quiet moment of mindfulness to simply be.
Our thoughtful little candle gift message boxes are the perfect small gift to wish a loved one, a friend, a colleague of a teacher a Happy Birthday!
Whether it's recharging, relaxing, reading, writing entries in your diary or undistracted time with someone, each handmade candle is designed to guide the lucky recipient through twenty minutes of daily, quality time.
The gorgeous little box is filled with 12 relaxation candles and a small ceramic candle holder.

Each adorable little candle is made with

100% pure beeswax which burns cleanly with a gentle honey aroma lasting for at least twenty minutes

.
Candle Dimension: 60mm x 7mm