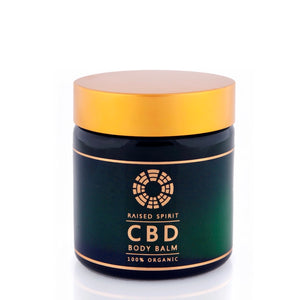 Raised Spirit is a Hemp lifestyle brand who seek to promote, develop and encourage the use of Hemp based products in place of less environmentally friendly options. All of their food and and skincare ingredients are 100% organic, vegan and expertly handblended in the Oxforshire countryside. 

This luxurious Organic CBD Body Balm has been lovingly hand crafted by blending five of nature's finest creations and designed to deeply nourish, moisturise and soothe your skin. Each jar contains the full spectrum of cannabinoids and is made by hand.
Jar size: 120ml, CBD content = 400mg

DIRECTIONS

Cleanse yourself fully and generously massage our Organic CBD Body Balm on to your skin or rub into the soles of your feet just before bed for a deep, relaxing, stress-relieving sleep!
Store in a cool place above 24° to ensure a constant consistency and use within 6 months of opening.
INGREDIENTS 
Organic Shea Butter, Organic Coconut Oil, Organic Hemp Flower Extract, Organic Lavender Essential Oil, Organic Sunflower Lecithin.
All of the ingredients above are Vegan Friendly and listed in the drop down menu above for more details on their wellness and wellbeing benefits.
Please avoid this product if you are allergic to Sunflowers.


This product contains less than 0.2% THC
100% Certified Organic (Soil Association) Vegan Friendly, UK Made