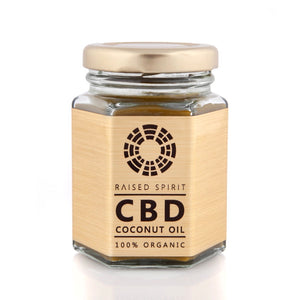 Raised Spirit is a Hemp lifestyle brand who seek to promote, develop and encourage the use of Hemp based products in place of less environmentally friendly options. All of their food and and skincare ingredients are 100% organic, vegan and expertly handblended in the Oxforshire countryside. 
A unique blend of two of nature's most powerful Super
​ ​F
oods
​ - ​
Hemp and Coconut
​. This
organic CBD Coconut Oil is 
​lovingly ​
hand made 
​in Oxfordshire 
by infusing milled hemp flowers into melted coconut oil.
Jar size 195ml, CBD content = 500mg, 1 teaspoon =
​2​
4mg CBD
DIRECTIONS

Raised Spirit organic CBD Coconut Oil is a perfect replacement for butter and other types of oil typically used in the kitchen. You can make smoothies, soups, dressings, stir-fries, sauces, and baked goods with the infused oil. 

To gain the most powerful effects, eat this CBD Coconut Oil or add it to your favourite hot drinkIt can also be applied topically, just rub straight onto skin and feel the amazing benefits as it helps to relax the muscles and moisturise the skin. Try massaging it into your feet just before bed for a deep, relaxing, stress-relieving sleep.

We recommend 1

​/4​

-

​1 ​

teaspoons up to 3 times a day. Each individual will experience slightly different effects. It is best to experiment with portion sizes taken at different times of the day to discover what works best for you, depending on desired results.
Store in a cool, dark place. Consume within 12 months.

Organic Coconut Oil
​, Organic Hemp Flower Extract.​
All of the ingredients above are Vegan Friendly, Gluten Free, Dairy Free and listed in the drop down menu above for more details on their wellness and wellbeing benefits.
​This ​

product contains less than 0.2% THC
100% Certified Organic (Soil Association) Vegan Friendly, UK Made