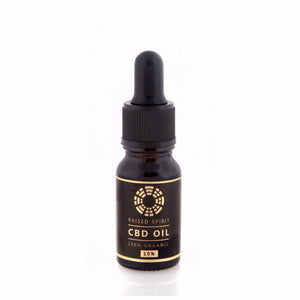 Raised Spirit is a Hemp lifestyle brand who seek to promote, develop and encourage the use of Hemp based products in place of less environmentally friendly options. All of their food and and skincare ingredients are 100% organic, vegan and expertly hand blended in the Oxfordshire countryside. 
This super smooth tasting 10% CBD Oil is the perfect option for those who aren't keen on the usual bitter hemp taste found in most droppers.

These bottles are a convenient way to quickly get this natural supplement into your system.

Made from 100% organic hemp plants grown outdoors in Europe, we mix the extracted cannabidiol (CBD) with nothing but organic hemp oil for added nutritional value.

This 10ml Bottle contains 250 drops = 1,000mg CBD, 1 drop = 4mg CBD

DIRECTIONS
Each individual will experience slightly different effects. It is best to experiment with portion sizes taken at different times of the day to discover what works best for you, depending on desired results. Start low and gradually increase dose as necessary after observing results.
Shake well and use the pipette to place 4-8 drops under your tongue. Leave there for 1 minute before swallowing. Use up to 3 times a day.
If you find the flavour to be too strong, take a drink of water or juice immediately afterwards, or buy our 10% drops which are much smoother tasting.
You can add CBD drops to meals and recipes, just keep baking temperatures to maximum 160 degrees Celsius to preserve the benefits. 
Best stored in a cool, dark place. Consume within 18 months.
INGREDIENTS
100% Hemp Flower Extract
All of the ingredients above are Vegan Friendly, Gluten Free, Dairy Free and listed in the drop down menu above for more details on their wellness and wellbeing benefits.
This ​

product contains less than 0.2% THC
100% Certified Organic (Soil Association) Vegan Friendly, UK Made