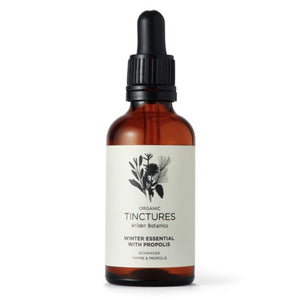 This Winter essential has been formulated with organic Echinacea, Thyme and Propolis containing constituents that help to soothe and support.
Caution: Propolis may cause allergic reactions if irritation or swelling of the mouth or throat occurs discontinue use and seek medical advice immediately.
Ingredients:
Alcohol, Spring water, Echinacea, Thyme, Propolis.
Net weight:
50ml
How to use:
10-20 drops daily in a little water.
Caution: Not to be used in pregnancy, whilst breast feeding or taking prescription medication.
Please consult a qualified herbalist or GP before taking herbal preparations.
Organic, UK Made