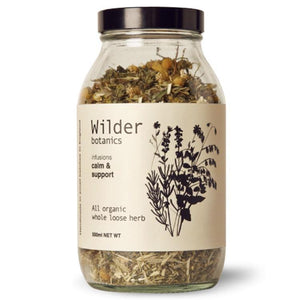 500ml
A beautifully scented everyday infusion to support the body when feeling tired and to help unwind. A whole loose blend of oat flowering tops to support the nervous system, calming chamomile to soothe stress, restorative lemon balm to uplift and relax and lavender to ease and induce a restful night's sleep.
Wilder Botanics are a London-based husband and wife team creating small batches of hand blended natural products. Their teas, tinctures and infusions are informed by backgrounds in herbology and naturopathy, with the body and mind at the core of each.
Ingredients: Oatstraw Avena sativa, Balm Melissa officinalis, Chamomile Matricaria recutita, Lavender Angustifolia.
Organic Ingredients, Hand Blended, UK Made