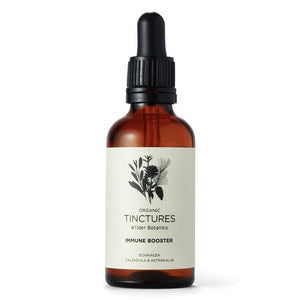 A concentrated herbal extract of three outstanding herbs Organic Echinacea , Calendula and Astragalus which help build strength and regenerate the body's defence.
Wilder Botanics are a London-based husband and wife team creating small batches of hand blended natural products. Their teas, tinctures and infusions are informed with backgrounds as herbalists and naturopaths, with the body and mind at the core of each.
Ingredients:
Alcohol, Echinacea, Calendula, Astragalus.

Contraindicated:
If taking immunosuppressant medication.
Net weight:
50ml
How to use:
10-20 drops daily in a little water.
Caution: Not to be used in pregnancy, whilst breast feeding or taking prescription medication.
Please consult a qualified herbalist or GP before taking herbal preparations.
Organic, UK Made