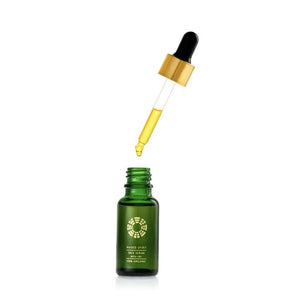 Raised Spirit is a Hemp lifestyle brand who seek to promote, develop and encourage the use of Hemp based products in place of less environmentally friendly options. All of their food and and skincare ingredients are 100% organic, vegan and expertly hand blended in the Oxfordshire countryside. 
This luxurious CBD face serum has been lovingly hand blended using only yhe finest organic ingredients to nourish, hydrate and help your skin glow.
Each bottle contains the full spectrum of cannibioids and is suitable for all skin types. This non-greasy, lightweight serum can be used day and night.
Bottle size: 20ml, CBD content: 80mg
DIRECTIONS
Shake bottle before use. Cleanse skin and apply, massaging gently working in circular motions from the centre of the face.
Store in a cool dry place and use within 6x months.
INGREDIENTS
Jojoba oil, Rosehip oil, Hemp oil, Rose Geranium essential oil, Lavender essential oil, Franckincense essential oil, CBD oil.
This ​

product contains less than 0.2% THC


100% Certified Organic (Soil Association) Vegan Friendly, UK Made