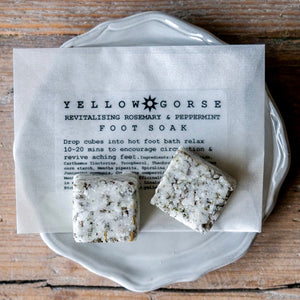 Revitalising
Treat your feet to this pair of Revitalising foot soaks, to revive soles, soften skin & stimulate circulation.  
Freshly made with natural ingredients.
Contains:
Cocoa butter, vitamin e & almond oil.
Energizing, anti-bacterial & anti-fungal rosemary & peppermint essential oil.
How to use:
Fill a large bowl with hot water & drop one cube per soak into water, let oils & butter disperse. Soak feet & relax for 10 - 20 minutes.
20 grams
Handmade, Natural Ingredients, Ethically Produced and Tested