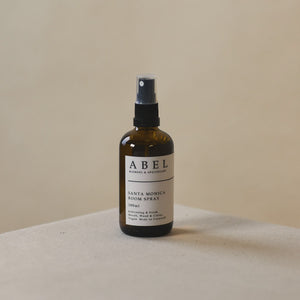 Santa Monica Room Mist - Lemon, Neroli & Sweet Wood - 100ml
A fresh, citrus scent to wake and energise you. Packed with Neroli and Lemon, Santa Monica hand soap is beautifully skin softening and gently foaming. A fresh, enlivening scent designed to awaken and calm. Containing stress and anxiety busting Neroli, this blend is the perfect pick-me-up for mornings. With a wood base note and a citrus top note, Santa Monica is designed to energize and motivate you - use it when you need enhanced productivity and drive.
Always hand bottled and labelled by hand, in 100ml amber glass bottles.
Vegan and Cruelty Free.
Santa Monica Hand Balm in 120ml and Hand Soap in 300ml also available. Santa Monica Burner Oil in 30ml can also be bought seperately.
Made with Cedryl Acetate, Cyclamen Aldehyde, Geraniol, Linalool). As a general note, please keep your oils away from your clothes and furnishings.
 Always Handmade, Recyclable glass packaging