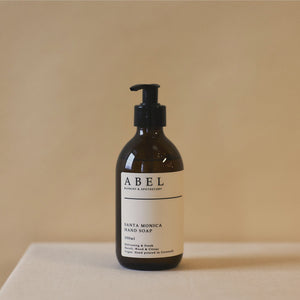 Santa Monica Hand Soap - Lemon, Neroli & Sweet Wood - 300ml
A fresh, citrus scent to wake and energise you. Packed with Neroli and Lemon, Santa Monica hand soap is beautifully skin softening and gently foaming. With a zingy, citrus fragrance at the sink, and a long-lasting but subtle effect on your hands after drying, this soap will become one of the everyday indulgences you deserve! 
Vegan and Cruelty Free. 300ml.
Santa Monica Hand Balm in 120ml also available.
Made with organic soap base and Santa Monica  Fragrance  at 1  % - Contains Cedryl Acetate, Cyclamen Aldehyde, Geraniol, Linalool). 
 Always Handmade, Recyclable glass packaging