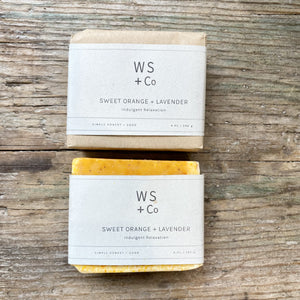 100g
A subtle and gronding soap bar for everyday use.
Skin Type: Suitable for all skin types.
Blend: Sweet orange and Laveder essential oil to calm and sooth the senses.
Natural Properties:
Anatto Seeds are full of antioxidants which help to fight free radicals and keep skin young.
Coconut Oil reduces inflammation and locks in moisture.
Rapeseed Oil is packed full of Vitamin E and K which can help to smooth fine lines and help to tackle problem skin.
Soap Care: When you are not using your soap bar it's best to keep them out of water on a well drained surface, allowing it to dry inbeween uses. A wooden dish with open slats is perfect. This will keep your soap bar feeling naturally fresh and fragrant for as long as possible.
Natural Ingredients, Handmade, UK Made, Vegan Friendly